Important note: the winery is temporarily closed to the general public. The reopening will be announced through this website and the winery's social networks @cellercapcanes
Depending on your schedule and time, you can choose the type of visit that suits you best.
If you don't want to drive, note that you can come to the winery by train.
Languages: Catalan, Spanish and English.
You will enjoy a tour of the winery, learn the complexity of making kosher wine and the spirit of the winemakers that make our cooperative possible. We will end the visit with the tasting of different wines:
Tasting of 3 wines: you will taste a young wine, a half-aged wine and a crianza wine
Price per person: 15 €
'4 Garnachas, 4 Soils' tasting: you will taste 4 wines of Garnacha that has grown in the 4 different types of soil of Montsant  (sand, clay, limestone and slate) and you could appreciate how the wines change depending on the soil of origin.
Price per person: 20 €, minimum 4 people
Kosher tasting: you will taste 2 of our kosher wines, a young rosé and a crianza, the Peraj Ha'abib, the wine that marked our history.
Price per person: 25 €, minimum 4 people
Premium tasting: it is the recommended wine tasting  for the gourmets, as you could try our best 3 wines coming from old or singular vines.
Price per person: 30 €, minimum of 4 people
Visit schedule:
Monday to Friday: 11h and at 15:30h.
Saturday and Sunday: 11h
Duration: 1,30h
Reservation: 48 hours in advance
Tel: +34 977 178 319 (Winery)
Email: visites@cellercapcanes.com
Consideracions: 
People under 18 years old are not allowed.
It is mandatory to wear a mask inside the facilities.
It is mandatory to show the Covid passport before the visit.
Visits are limited to 8 people. 
Are you a professional in the wine sector and want to visit us?
Get in contact with us.
Tel: +34 977 178 319 (Cellar)
E-mail: visites@cellercapcanes.com
Opening hours on Summer: from June 13th to August 31st:
Monday to Friday: 9h – 14h
Saturday: 10 -14h
Sunday, public holidays: closed
Opening hours on winter:
Monday to Friday: 9 am-1:30pm and 3 pm-6pm
Saturdays, Sundays and public holidays: closed
E-mail contact: botiga@cellercapcanes.com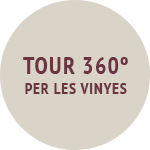 PAGES OF INTEREST
WHERE TO SLEEP
WHERE TO EAT